Do you have an ecommerce business, and you want to increase your sales by attracting customers? Maybe you are also looking for excellent quality image editing? You want to resize them or want to get straightened? Well, I got some tips and make you understand why image editing in e-commerce is so important.
E-commerce Product Image Editing Services-
Product photography editing in e-commerce assures quality image content. This refers to the process of editing attractive photos using Photoshop. Quality content attracts people and ensures traffic, sales, and business development. There may be many imperfections, such as light, color, background, unexpected objects, etc. This is where editing of the photograph is necessary.
Affordable E-commerce Product Photo Editing-
Zphotoedit ensures you deliver the most excellent e-commerce product images with reasonable charges. The mid looking image turns into an awesome looking product image online. Product image enhancement in e-commerce always a requirement and so photo editors try to maintain the standards of popular e-commerce websites. This trick helps you get more sales and expand your business.
E-commerce editing and retouching for online stores-
E-commerce product image retouching and editing are essential for online retailers. You can't upload them without editing. According to the e-commerce image guidelines you need to follow these steps-
Product Background Removal, where the white background is the key.
Product Photo retouch and enhancement, where imperfections such as lousy light, color, and unclear images are fixed.
Photo shadow effects create shadow using Photoshop to add depth and make realistic product images.
Ghost mannequin and neck joints give an invisible shape to increase sales.
Packshot photo editing, where labels get fixed such as label color, background, size, logo, etc. helps in branding products.
Image cropping and resizing, to remove unwanted areas and get the exact dimension of photo.
This can also help you open your Web store, which will boost up your online business more. Product photography editing in e-commerce is necessary, and it includes,
Clothing and accessories
Shoes & footwear
Jewelry & watches
Beauty & cosmetic product
Furniture & home appliances
Electronic & toys
Industrial equipment & machinery
Automobiles & accessories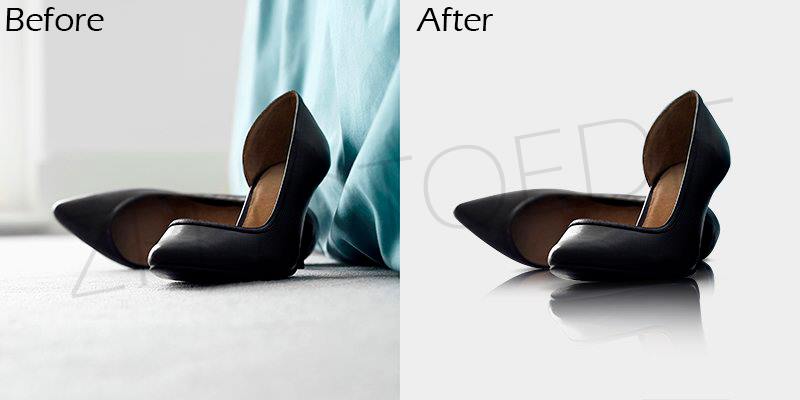 Presenting the best visuals through online photo editing-
All of these need an excellent visual presentation, editing, and all product image enhancements in e-commerce given above. You need to follow every detail for the image editing provided above. Research says that product image makes customers attract three times as likely to buy the product.
Increased sales by optimizing images-
Having pictures is not enough; you need to have professional images that show you mean business seriously. Poor light, distracting background, cheap-looking shots drag customers far away from your company. But the quality image, of course, is a plus point to like and attract products more. E-commerce product image retouching helps you get increased sales and making money. It's key to your business online.
Unleash your creative side-
Push your e-commerce sales to the next level. Try more images editing e-commerce, such as stitching multiple shots of the product, removing mannequin and models, isolating subjects for background, etc. so that you get a better result. Also, create unique advertisements and digital composites to showcase your product. You may also take help from professionals to develop material for ads and storefronts, and this is the way you sell more and make money as well.
I hope you have to know why e-commerce product image retouching and editing are essential for your e-commerce business. Simply adding value to your company and helping you grow more with e-commerce business online.